Dr Hope Hodgson BVSc
Dr Hope Hodgson joined the Eureka Vet Clinic team in 2015 and many of you may have already had the opportunity to meet her as she hit the ground running in both both small animal medicine and surgery.
Hope is from a sheep, cattle and cropping enterprise an hour north of Swan Hill and is no stranger to Ballarat, having completed her final 3 years of high school as a boarder at Ballarat Grammar. She then headed to Charles Sturt University in Wagga Wagga, NSW, graduating from Veterinary Science in 2012. Hope's worked in mixed animal practice at Riverland Vet Clinic in SA until she joined Eureka Vets. She enjoys most aspects of her job, but especially dermatology (skin) and opthalmology (eye) cases, pocket pets and wildlife.
Outside work, Hope enjoys campdrafting and other horse-related activities, photography, agriculture, socialising over food and wine and travellng. Despite having mulitple dogs and cats on the family farm, they are sadly too elderly to leave home now, leaving Hope with just Marlee, a 2 year old Blue Heeler cross as her regular travel companion.
We know you'll make Hope feel welcome as she provides quality vet care (along with an infectious smile) with us all at Eureka Vets.
Important Notices
Have you got a new puppy?
Have you recently added a new puppy to the family? Early socialization and training is vital for your pups behavioural development and gives new owners lots of important information on raising a puppy.
Early socialization through puppy preschool can lead to lower anxiety levels around other dogs and people later in the dogs life.
Please come and enquire about puppy schools at the Eureka Vet Clinic on 5333 5959.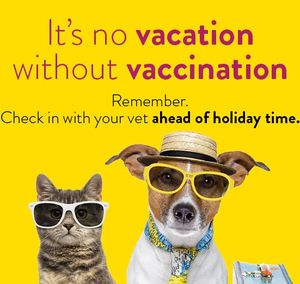 It's no vacation without vaccination
Before you send your pets off to boarding facilities, make sure that they're up-to-date with all the vaccinations they're likely to need. Please don't leave this to the last minute as the establishment of immune protection takes time.
Vaccination is important for your pet's health
Vaccination protects your pet from infections that may be lethal or cause serious disease. Some infectious diseases such as canine cough, canine parvovirus and "cat flu" are common in Australia. When staying in boarding facilities, dogs and cats are at higher risk of infectious diseases, so vaccination is especially important.
Immunity following vaccination may reduce over time and so boosters may be required to maintain optimal protection. Most boarding facilities require dogs to be fully vaccinated with a "C5" vaccine, and cats with an "F3" vaccine.
Your vet may recommend other vaccines in addition to this. Please confirm with your boarding facility what their vaccination policy is prior to boarding. If you have any questions about vaccination please don't hesitate to call us.