Dr Brooke Shergold BVSc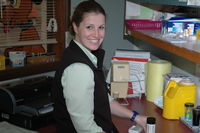 Dr Brooke Shergold is a Melbourne girl with a firm interest in regional veterinary practice, having chosen clinical placements in Gippsland and Mansfield, as well as with specialist surgeons at Advanced Vet Care in Melbourne.
Brooke may also be the person to see for fish and exotic pet problems, as she's also spent time with The Aquarium Vet and working at Auckland Zoo.
Brooke is an accomplished singer, saxophonist and percussionist, speaks French and enjoys soccer and softball. She is missing her aged Labradoodle, "Cookie", who is living with family in Melbourne.