Welcome to Eureka Veterinary Hospital
There is something special about looking after your pet's health. Every day we come to work to do something we love, looking after your pets. Everyday we are constantly facing challenges and learning new things; this makes working for you exciting. By helping your pets live a long and happy life, we get to make a difference in your life which also makes a big difference in our lives. .
At the Eureka Veterinary Group, our team of staff have the skills and the equipment to provide you and your pet with the professional and compassionate veterinary care you deserve to ensure your pets gets healthy and stay healthy
We have two clinics, the main clinic, Eureka Veterinary Hospital which is located in central Ballarat and our branch clinic, the Mt Clear Veterinary Clinic.
We want to help your pets continue to make a difference in your lifes, let us show you how much we care.
We are now able to offer you the ability to make an appointment on line 24 hours a day. Please visit our client registration page for more information on how to do this.
Important Notices
Have you got a new puppy?
Have you recently added a new puppy to the family? Early socialization and training is vital for your pups behavioural development and gives new owners lots of important information on raising a puppy.
Early socialization through puppy preschool can lead to lower anxiety levels around other dogs and people later in the dogs life.
Please come and enquire about puppy schools at the Eureka Vet Clinic on 5333 5959.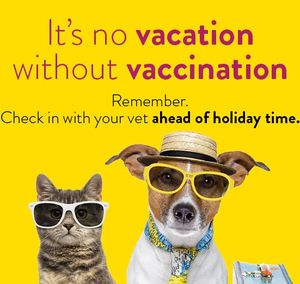 It's no vacation without vaccination
Before you send your pets off to boarding facilities, make sure that they're up-to-date with all the vaccinations they're likely to need. Please don't leave this to the last minute as the establishment of immune protection takes time.
Vaccination is important for your pet's health
Vaccination protects your pet from infections that may be lethal or cause serious disease. Some infectious diseases such as canine cough, canine parvovirus and "cat flu" are common in Australia. When staying in boarding facilities, dogs and cats are at higher risk of infectious diseases, so vaccination is especially important.
Immunity following vaccination may reduce over time and so boosters may be required to maintain optimal protection. Most boarding facilities require dogs to be fully vaccinated with a "C5" vaccine, and cats with an "F3" vaccine.
Your vet may recommend other vaccines in addition to this. Please confirm with your boarding facility what their vaccination policy is prior to boarding. If you have any questions about vaccination please don't hesitate to call us.