New Client Registration
For emergency appointments, please call the clinic on 5333 5959
Registering as a new customer
​

If you or your pet has already been to the Eureka, Mt Clear, Ballarat or Wendouree Vet Clinic, See below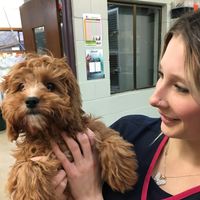 If you a new customer to the Eureka Veterinary Clinc or Mt Clear Veterinary Clinic and would like to register your details and that of your pets with us? If so, then please go to New customer registration page.
Please note, the registration page is a large file and is slow to load and it is best opened on a tablet or desktop computer.
Once this form is completed, the information will be added to our practice management software and you will receive an email with a link to the VetBooker website.
If you are already an existing customer of the Eureka Vet Clinic, Mt Clear Vet Clinic, Ballarat Vet Practice or Wendouree Vet Practice, then you DO NOT need to register your details using this new customer registration page as your details will already be in our practice management software.
---
Existing customers and
registering for online appointments
Once your details are registered on our practice management software at the clinic, in order to make appointments online, you will need to be registered with VetBooker. VetBooker is an online appoinment scheduler that is linked to our practice management software.
To register with VetBooker, you will need the email address that we have listed on your file in our practice management software.
This is an important security aspect that helps keep your detail safe.
If you have not registered an email address with us, then please call us so we can enter you email address to your file.
If you have any question please contact us on 5333 5959.